2021-07-06
Firstly, we propose to use drywall steel framing to fix paper gypsum board for suspended ceiling and partition wall application, instead of wood keel. drywall steel profile produced by Sinoceiling has many good features: deform, light weight, high strength, anti-corrosion and so o...
Read More
2021-06-18
how to efficiently apply drywall steel profile working for ceiling,partition wall? SINOCEILING® has been offering high-performance drywall steel profile, metal profile to fix paper gypsum board, drywall plasterboard or perforated gypsum board to work...
Read More
2021-03-10
Paper gypsum board can be easily installed with drywall steel profile. It has been widely applied in both commercial and residential areas. pls visit sinoceiling.com...
Read More
2020-08-06
what affects price of PVC Sports flooring , Vinyl flooring ? Certainly,we prefer the cheaper price products as a buyer.But the price exists a big difference based on different quality.If you buy a cheaper one,quality warranty is one month. another higher price one,quality warranty...
Read More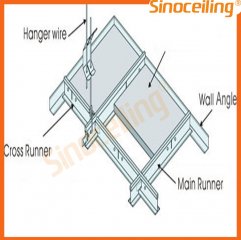 2020-05-11
T24 Las rejillas en T para cielorrasos expuestos consisten en una T principal, una T transversal, una T pequeña y un ángulo de pared. se puede instalar perfectamente con placas acústicas para cielorrasos, ampliamente aplicadas en techos residenciales y comerciales. La superfici...
Read More